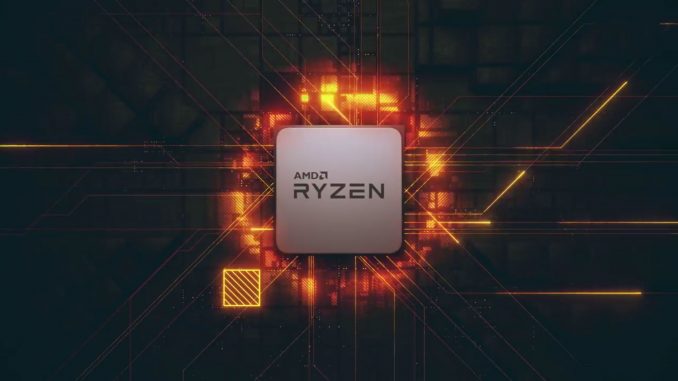 At a presentation AMD published new details about new CPUs. Ryzen 3000 will be released mid 2019, a third Threadripper generation will be released as well.
Ryzen 3000 to arrive mid 2019
At AMD, the year 2019 is strongly focused at 7nm. In addition to the already released Radeon VII in 7nm design and upcoming Navi graphics cards, which are also based on 7nm structure width, some new processor generations are coming onto the market too. Next to the recently launched Athlon Mobile APUs, the second generation of Ryzen Pro Mobile processors will be launched this spring.
However, the new generation of Ryzen processors is likely to be even more important. With it, AMD is focusing on Zen 2 and thus also on 7nm. The architecture includes some new features and a completely new way of operating. The processor cores are located in their own small 7nm chiplets, which are connected to a central management chip that handles memory management and I/O functions. The shrink to 7nm allows up to 16 cores on Ryzen 3000. An important new feature is the support of PCIe 4.0.
At CES 2019, AMD kept a low profile on the new generation and spoke of a launch "in summer". Recently, a retailer in Singapore had several processors in its portfolio, including prices. In the past, the retailer Bizgram has already included several unreleased products in its catalogue, which came onto the market a short time later. Some speculated that Ryzen 3000 could be launched earlier than originally planned. AMD has now presented a new roadmap with a number of upcoming products at an investor presentation. Ryzen 3000 is still planned there for "mid-year", which makes a presentation at Computex likely. Possibly there will be an event on July the 7th, 2019 where AMD will present Ryzen 3000 and Navi.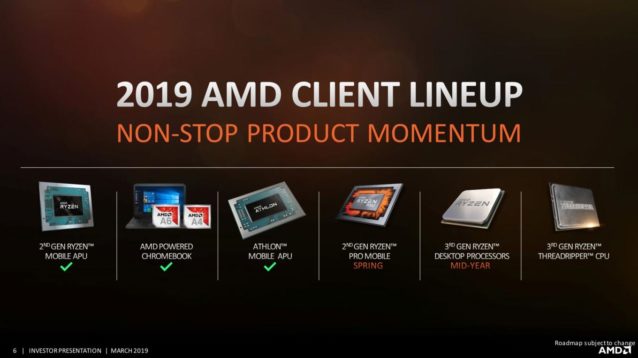 AMD Confirms Third Generation of Threadripper
In addition to the Ryzen 3000 processors, there is another non-released category on the presentation slide. After the desktop series, a new generation of Threadripper processors will also be launched. The Threadripper 2000 processors started last year five months after Ryzen 2000, which makes a launch of Threadripper 3000 likely by the end of the year.
Since Threadripper is actually only a modified Epyc processor, all innovations of the server platform could flow in here. According to this, Threadripper 3000 could already come on the market with the chiplet design of Epyc 2 alias Rome and therefore up to 64 cores. Technically, all the advantages of Zen 2 such as PCIe 4.0 support are probably added.
When Ryzen 3000 and Threadripper 3000 will start exactly is not yet clear. But if AMD continues to drive at full power ahead, 2019 will probably be one of the most exciting years in processor history.