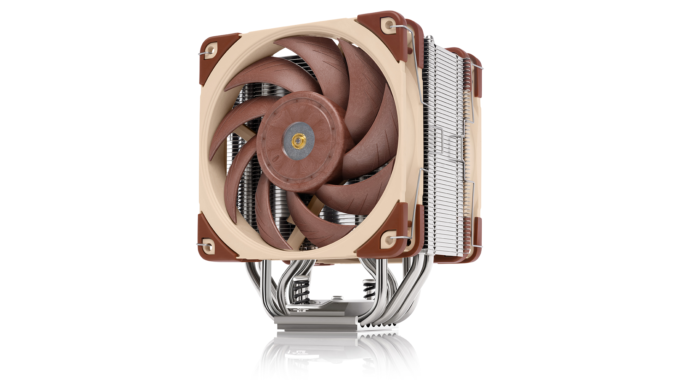 Noctua has released a new CPU cooler. The Noctua NH-U12A is a single tower cooler, but comes with two high performance NF-A12x25 fans.
Noctua and the brown premium coolers
Noctua is one of the best-known cooler manufacturers in the world. The Austrian company has been working with Kolink since 2005 to develop top-class cooling solutions for both industry and consumers. The brown fans are the signature of the company, which has acquired an excellent reputation with its coolers. The products are not only very well processed, but also perform excellently in our tests. The Noctua coolers are hard to beat both in terms of noise level and cooling performance. Although the color brown as a trademark is definitely not everyone's taste and some may be a thorn in the side, but the recognition value is enormous.
Noctua has specialized mainly in premium products. The company offers both single and double tower coolers. However, these also have their price. The most expensive cooler for the mainstream so far was the Noctua NH-D15 for a good $90, which offers two cooling towers and two 140 mm fans. Due to its size, the radiator is quite bulky, but one of the best in its class. The latest cooler from Noctua should put an end to both.
Noctua NH-U12A: single tower with two fans
With the NH-U12S, Noctua had a popular 120 mm cooler with a single tower in the portfolio for a long time. The U12 series, along with the NH-U12, was also the first product to be launched by the company back in 2005. The NH-U12A released today is already the fifth generation and should be a milestone in terms of performance and compatibility. Noctua continues to rely on a cooling tower and the 120 mm format. The tower is now equipped with 37 percent more cooling fin surface compared to the NH-U12S and seven heatpipes. Two NF-A12x25 fans in a push-pull configuration are used as fans. The two fans have been "bred" for performance for years and are more powerful than most 140 mm fans. With this new configuration, the NH-U12A should not only be the best 120 mm cooler, but also be able to beat many 140 mm coolers.
Noctua also emphasizes the compatibility of the NH-U12A. Due to the asymmetrical design, the manufacturer guarantees 100% compatibility with all RAM modules on LGA-115x and AM4 mainboards. Due to the width of 125 mm including fans and brackets, the NH-U12A should not block the PCIe slots and offers full compatibility in this direction. With an overall height of 158 mm, the cooler can also be accommodated in practically any mid-tower case.
The Noctua NH-U12A is now available for $99. Included in the package are the SecuFirm2 mounting set for all sockets, the NT-H1 thermal compound and 6-year manufacturer's warranty.