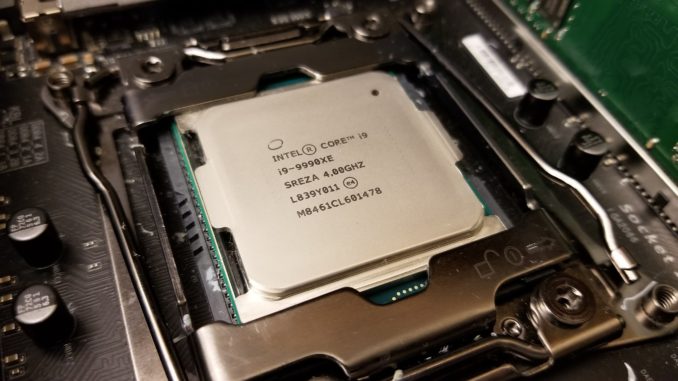 Intel launches a new flagship named Core i9-9990XE. The CPU has 14 cores and achieves on all of them simultaneously up to 5 GHz boost clockspeed.
Extreme Edition, but not the most cores
With the Extreme Edition brand, Intel has been offering processors for a long time that represent the upper end of the lineup in the HEDT section. The current flagship is the Intel Core i9-9980XE with 18 cores and up to 4.4 GHz boost clock. However, a good month ago an i9-9990XE appeared as well. It is supposed to be a new flagship that once again tops the i9-9980XE. Interestingly, only 14 cores are supposed to be built in, which would be below the 18 cores of the current flagship. The i9-9990XE is therefore only a very well selected i9-9940X. The special thing about the processor is the clockspeed. In the preliminary stages it leaked out that up to 5 GHz turbo is possible – not only on one core, but on all.
Puget Systems shows i9-9990XE
The distribution channel is also rather unusual. Intel only auctions the processor at its own auctions, and not to private customers, but only to OEMs. Puget Systems is also one of these OEMs, which recently started offering systems with the processor and also lists it on its own website. The employee Matt Bach has also published a photo of the processor on Twitter. In the technical specifications, Puget Systems confirms the technical data once again. Accordingly, the i9-9990XE clocks at 4.0 GHz in the base clock and up to 5.1 GHz in the boost clock. The turbo on all cores is extremely impressive at 5.0 GHz. However, this is also affecting the TDP. It is 255 watts and thus 90 watts above the 165 watts of the i9-9980XE. Matt Bach also comments on Twitter that the processor gets extremely hot. Nevertheless, the CPU runs on the socket 2066 – but probably only on the absolute high-end mainboards.
The special auction-only @intel Core i9 9990XE just arrived here at @PugetSystems yesterday. So far, performance looks amazing, but it definitely runs hotter than the other X-series CPUs. We should have benchmarks up in the next week or two! pic.twitter.com/XYsOa0EMXs

— Matt Bach (@PugetMattBach) 6. Februar 2019

How much the processor cost is not known. Puget Systems doesn't quote a price. Since Intel's sales are made through their own auctions, the price is likely to vary. We could only speculate here, but the i9-9980XE should definitely cost a good bit more than the i9-9980XE. Puget Systems also wants to publish benchmarks in the near future.