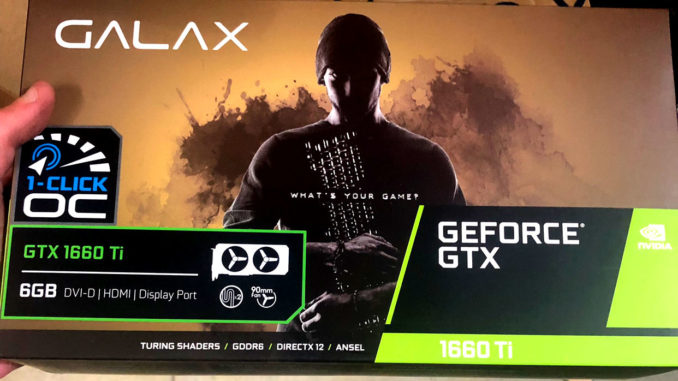 The Nvidia GTX 1660 Ti is ready for takeoff. Now the packaging from EVGA, Palit and GALAX leaked out, confirming the GPU once again.
GTX 1660 Ti: Turing without Turing features
Nvidia is currently preparing the launch of a new graphics card. The GeForce GTX 1660 Ti is supposed to fill the space that the RTX 2060 cannot currently cover due to the high price. With the 1660 Ti Nvidia wants to serve the most important market for graphics cards: the middle class. Competition from AMD is also very strong in this sector. However, with the currently launched Turing graphics cards, Nvidia cannot do much in the middle class. The main reason is the new hardware features that make the Turing generation expensive. However, the Tensor and RT cores are out of place in the mid-range segment as they drive up the price and offer no real advantage.
The solution is obvious: a dedicated chip without the actual Turing features is needed. This chip called TU116 is built into the GTX 1660 Ti. It contains 1,536 CUDA cores and is said to be on the same level as the GTX 1070. In contrast to the TU102, TU104 and TU106 models used in the RTX models, the TU116 chip does not contain tensor and raytracing cores. That the graphics card will come onto the market was still unclear until the end. But now more and more packaging is leaking, indicating an imminent launch.
Packaging leaked out
The website Videocardz has got its hands on the first product pictures of the GTX 1660 Ti. On the one hand there are first product pictures of EVGA and Palit. The EVGA GeForce GTX 1660 Ti XC and Palit GeForce GTX 1660 Ti StormX models are small graphics cards with one single fan, as they are often found in the mainstream. The first real photos of a GALAX GeForce GTX 1660 Ti also appeared on Reddit. These do not show the graphics card, only the packaging. The photos seem to come from a retail warehouse, suggesting an imminent launch. The last launch date under discussion was February 15th. If that's the case, we'll know more in four days.