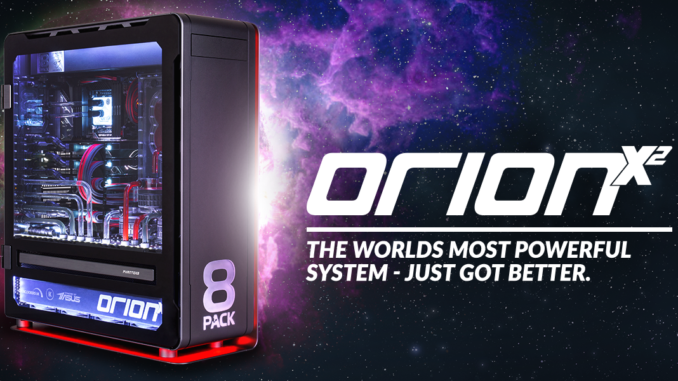 8Pack today introduced a new system called 8Pack Orion X2. The dual system with custom loop comes with four Titan RTX and costs 40,000 euros.
8Pack Orion X2: i9-7890XE, four Titan RTX, Custom Water Cooling
The modder Ian Parry, better known as 8Pack, introduced a new system today. The PC that bears the name 8Pack Orion X2 is probably one of the most extreme systems ever. A Phanteks Enthoo Elite contains two systems overclocked to the maximum, which promise excellent performance. The new Asus ROG Rampage VI Extreme Omega serves as the basis for the larger system, on which an i9-7980XE sits. It clocks permanently at 4.6 GHz. The RAM used is 128 gigabytes of TeamGroup Dark Pro "8Pack Edition", clocked at 3,200 MHz. The selected pixel accelerators are three units of the Nvidia Titan RTX. The primary memory is a Samsung 970 Pro NVMe-SSD with 2 terabytes capacity. Secondarily a Seagate Ironwolf Pro HDD with 14 TB storage capacity is used.
The second system is integrated on a Mini-ITX basis. The motherboard used here is an Asus ROG Strix Z370I Gaming, on which an Intel Core i7-9700K does its work. It is overclocked to 5.0 GHz and can access 16 gigabytes of DDR4-4000 memory. Two Samsung 970 Pro 2 TB SSDs in a RAID0 array are used for data storage. 8Pack also uses a Titan RTX for the smaller system.
Custom water cooling with three loops, price of a middle class car
To drive the entire system, a Superflower Platinum power supply with 2000 watts of power in the 8Pack edition provides the right currents. But the real highlight are probably the three water cooling circuits. For maximum cooling, 8Pack has separated the components in the Orion X2. So a circuit with a 480 mm radiator only cools the i9-7980XE of the main system and the SSD. The second circuit can rely on a 480 mm and a 360 mm radiator and is only responsible for the three Titan RTXs. The third cooling circuit with red coolant cools the complete Mini-ITX system with a 360 mm radiator. Each system has its own Aquaero 6 control and can be controlled separately. The cooling system consists entirely of parts of EK Water Blocks, Aqua Computer and Mayhems. Optically, sleeved cables from Pexon and of course RGB lighting are used.
However, this configuration is not quite cheap. All in all the 8Pack Orion X2 costs 39,999.90 Euros at Caseking and thus as much as a middle class car. Assembly takes a good six to eight weeks. Interested customers therefore have to be patient, but will probably get the fastest system on the market.