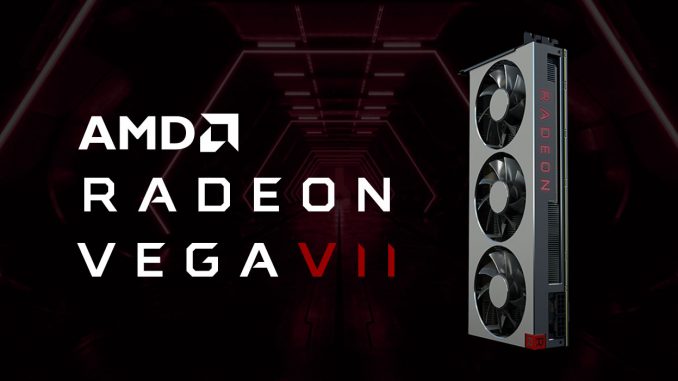 The new Radeon Vega VII will be launched on February 7th. It is said that AMD has less than 5,000 units available for the launch.
Radeon Vega VII: Problems even before the launch?
At CES 2019, the Radeon Vega VII was the star of the AMD keynote. CEO Lisa Su presented the graphics card at the exhibition with a lot of effort. This is the 7nm version of Vega 10, which is already used as Vega 20 and with 60 compute units in the Radeon Instinct MI50. It is supposed to reach the performance level of the RTX 2080, but with 16 gigabyte HBM2 memory and a 1 TB/s memory connection it is especially interesting for compute applications and content creators. But the Radeon Vega VII is also expected to provide a significant performance boost for gamers. AMD has already published 26 benchmarks for this, but independent tests are still pending.
However, even before the launch, the first problems are already emerging. There are indications that AMD will only sell the Radeon Vega VII exclusively via the AMD webshop, at least for the start. Custom models are generally not planned at the moment. Whether this will change in the future is not yet known. The Radeon Vega VII is also limited in FP64 compute performance compared to the Radeon Instinct MI50, which uses the same chip. A new rumor now reaffirms that the graphics card will probably be rather difficult to get at the launch.
Less than 5,000 units, loss instead of profit for AMD
According to information from TweakTown, AMD has a clear problem with the Radeon Vega VII. In fact, it's a Radeon Instinct MI50 graphics card with video outputs and an active cooler. The profit margin is correspondingly low. According to the report, AMD even makes a loss with every single graphics card by selling it for 699 US dollars. As a result, less than 5,000 units are currently in production and will be sold directly via AMD from February 7th. A product launch with 5,000 available units is basically nothing unusual, but in view of the recent leaks this rumor is more than plausible. This also fits into the picture with unplanned custom models of the Radeon Vega VII.
At the request of the colleagues from Tom's Hardware, AMD denies the rumors. No production figures are published, but at the start on February 7, there are definitely products available via AMD.com and the board partners. In addition, AMD expects the supply of graphics cards will meet the demand of gamers. How many products will actually be available on the day of the launch and afterwards will probably only become apparent on the launch day.