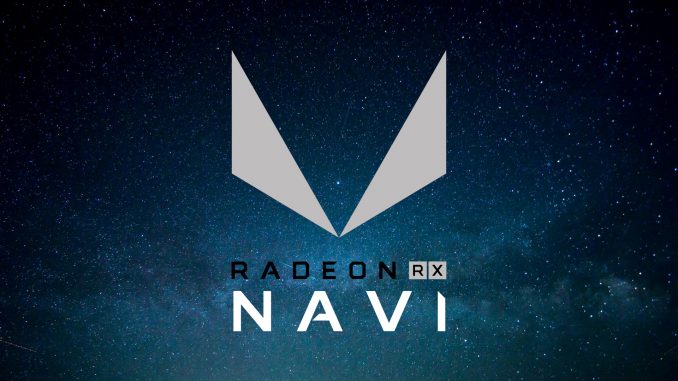 The AMD Navi graphics cards are expected to laucnh in the second half of 2019. For the first time, MacOS source code now contains references to Navi.
Navi, AMD's large 7nm attack
In 2019, AMD is the first processor and graphics card manufacturer to set its sights on 7nm on a large scale. While Intel and Nvidia still use 14nm and 12nm respectively, AMD gradually converts all products to 7nm. The graphics card sector makes the start with the Vega 20 chip. This chip is found in the server graphics cards Radeon Instinct MI60 and MI50 as well as in the new Radeon VII. The processor section also receives the first processor dies with a 7nm structure width through Zen 2. The server area also starts with this. In this case, Epyc 2 comes onto the market with up to 64 cores. In the middle of the year Ryzen 3000 will follow, possibly with up to 16 cores on AM4.
However, customers are expecting the next generation of graphics cards, codenamed Navi, almost even more eagerly. While Vega 20 is only a 7nm version of the 14nm Vega 10 GPU, Navi is the first graphics card generation based exclusively on the 7nm process. With the new generation AMD wants to replace 2019 the whole product portfolio and bring it to 7nm. It replaces the Polaris and Vega graphics cards. Whether Navi will also replace the Radeon VII is still unknown. There will also be solutions based on the new generation for the mobility market. This is now also indicated by the source code of a MacOS update.
Four Navi GPUs appeared in MacOS Mojave
In the TonyMacx86 forum (via Videocardz) a user discovered something in the MacOS Mojave source code. In a file called "AMDRadeon6000HWServiceskext" the GPUs Navi 9, Navi 10, Navi 12 and Navi 16 can be found. The chip might always be the same, while the names only indicate variants or expansion levels. It is still uncertain which expansion stages are involved. However, the number could be the number of compute units, which is why the Navi graphics cards in the source code are probably mobile GPUs. The largest of these GPUs could therefore have 1,024 shader units. Another theory is that these are already the finished chip names, which is why Navi 10 could also be the top model with 64 CUs.
The fact that Apple is already adapting the first lines of code to Navi could also mean that the new graphics cards will come onto the market much earlier than previously assumed. Six weeks before the launch of Vega, the MacOS source code showed signs of it for the first time. Other sources mention a presentation of the Navi graphics cards at E3 2019 in June. It is possible that AMD might launch the mobile versions earlier, while the desktop versions will follow at a later date.