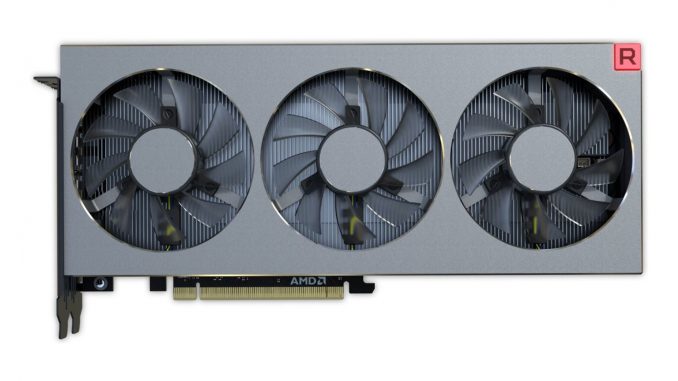 AMD's Radeon Vega VII, unveiled at CES, will be on sale on February 7. However, there will be no custom models from the board partners for the time being.
Radeon Vega VII: what can we expect?
At CES 2019 it was the central topic of the AMD keynote. While most people, including us, actually expected everything to revolve around Zen 2 and the new Ryzen 3000 generation, AMD presented the Radeon Vega VII at the show. It's the first 7nm consumer graphics card which is AMD's new flagship. With 60 compute units it is supposed to approach the performance of the RTX 2080. Although AMD has already published gaming benchmarks compared to the RX Vega 64, with 16 gigabytes of HBM2 memory and a 1 TB/s memory connection, it is especially interesting for content creators.
Technically, the Radeon Vega VII is actually only the desktop version of the Radeon Instinct MI50, which AMD launched together with the Radeon Instinct MI60. These are server graphics cards and the first 7nm graphics card at all. They are based on the Vega 20 chip, a new version of the Vega 10 chip, but in the 7nm design. Despite the proximity to the server graphics card, AMD has designed the Radeon Vega VII for end customers and gamers. There is no RX in the name, but that shouldn't bother any more. However, it could be bothering that for the time being no custom models of the board partners seem to come onto the market.
No custom models of the Radeon Vega VII
With the new Vega graphics card, AMD has also introduced a new cooler design. While the RX Vega models or the RX 480 still rely on radial fans, the Radeon Vega VII comes with three axial fans and is therefore more in line with the custom designs of the board partners. This could also have a good reason. The well-connected tech journalist Igor Wallossek from Tom's Hardware Germany asked three board partners what the future custom designs will look like. However, his sources indicated that no designs in any form are planned at the moment. This confirms that the Radeon Vega VII will definitely only be delivered by AMD in the well-known design at the launch.
The fact that no models are planned at all also means that the board partners are not working on custom models. It could therefore be that no custom models of the board partners will come onto the market at a later date. This also fits the statement of a Chinese colleague who said that the quantity of the Radeon Vega VII is strictly limited and therefore AMD does not allow custom designs. However, it is possible that reference versions with the stickers of the board partners and their own boxes will come onto the market later. More details will probably only be revealed after the launch on February 7th.