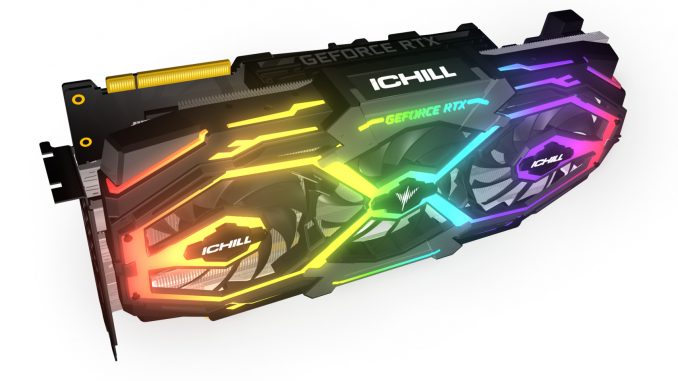 Inno3D offered rather boring graphics cards for the start of Turing. Now RTX 2070 and RTX 2080 are launched as iChill X3 with lots of RGB.
The first Inno3D iChill graphics cards arrive
At the launch of the new graphic architecture Turing by Nvidia, many high-end designs were already at the start available. MSI brought the Gaming X Trio series, while Asus brought the well-known Strix series back onto the market. EVGA also started directly with the absolute high-end models. However, other manufacturers like Palit, Gigabyte or Inno3D first brought rather simple designs onto the market. While Palit have meanwhile launched the GameRock and Gigabyte the Aorus Xtreme, Inno3D has waited a bit to release the top design. The iChill X3 continues the series, but has received a noticeable revision.
Lots of RGB and replaceable fans
While a discreet black design was the main feature of the Pascal generation, Inno3D now also follows the RGB hype. The iChill X3 graphics cards come with three fans and a cover that is full of RGB lighting. The cooler is thick as a whole three slots and comes with a special clou. It is equipped with three 9 cm diameter fans as standard, but can also be converted to two 10 cm fans. On the side, the iChill logo is displayed below a black GeForce RTX logo. In the fan cover, the same lettering can also be found once in RGB-illuminated. The cooler design is also equipped with a backplate.
When the first graphics cards with iChill X3 cooler will be available is not yet known. However, the RTX 2070 and the RTX 2080 will be the first, later an RTX 2080 Ti will follow. Whether an even higher-quality model with the well-known four fans will follow is also still unknown.
This slideshow requires JavaScript.
f