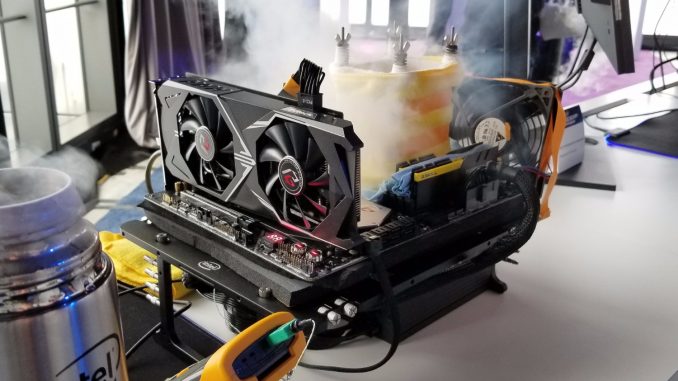 The overclocker slave overclocked the Core i9-9900K directly at the Intel event. It reaches 5.3 GHz with water cooling and 7.1 GHz with liquid nitrogen.
i9-9900K: high factory clockspeeds
The secret finally has been revealed. The new Intel Core i9-9900K was introduced yesterday after a long wait and countless leaks. Together with the i7-9700K, the processor is the company's first mainstream processor with eight cores. But also the clock rates are not to be ignored. The i9-9900K achieves a turbo clock of 4.7 GHz on all cores and even 5 GHz on up to two cores without manual overclocking. Intel has proven that it can still refine the 14nm production process that has been in use for a long time. The high clock rates are also supposed to provide an even higher gaming performance even with more cores. But the processor also cuts a good figure with overclocking, as the extreme overclocker Splave has shown.
5.3 GHz with water, 7.1 GHz with liquid nitrogen
Splave used several samples of the i9-9900K and tested them in different scenarios. He overclocked the eight core with a normal custom water cooling and reached a stable 5.3 GHz at 1.4 Volt on all cores. This is a good increase compared to the standard clock, but also compared to the predecessor. The i7-8700K often reached its maximum at 5.0 GHz on all cores.
Naturally, it's possible to do more with a more powerful cooling system. The extreme overclocker cooled and overclocked several of the chips with liquid nitrogen directly at the event. At a voltage of 1.7 volts he reached a stable 6.9 GHz on most samples on all cores, while some samples even reached a clock rate of 7.1 GHz on all cores. On a single core even 7.4 GHz were possible. That such a high clock rate is of course unrealistic in the long run should be clear to everyone, but it shows quite well what can be achieved with the new Coffee Lake Refresh processors. The new Solder Thermal Interface material, STIM for short, may also help. Intel no longer relies on a heat conducting paste between processor and heatspreader for the new generation, instead soldering the components directly together again. This enables significantly better heat dissipation without the need of delidding or liquid metal.