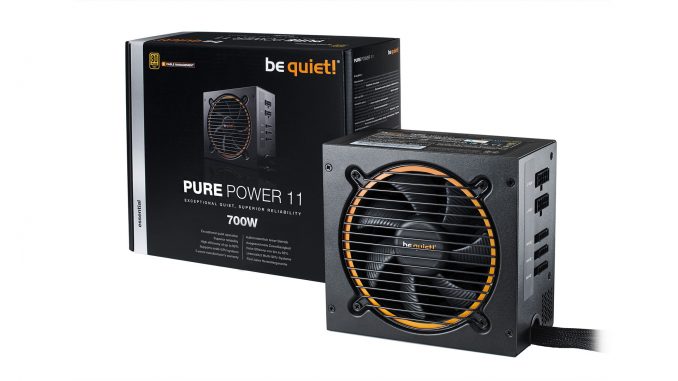 be quiet! has redesigned the Pure Power series as Pure Power 11. The power supplies come with 80 Plus Gold certification and fewer coil whining.
be quiet! relaunches bestseller series
The manufacturer be quiet! is one of the leading producers of power supplies, cases and processor coolers in Europe. According to the brand name be quiet! optimizes for very quiet operation, which makes the products very popular. The Pure Power power supply series is of course no exception and is due to the price one of the most popular power supply series at all. be quiet! knows that and has updated the series once again. The new Pure Power 11 series basically comes with the same features as the predecessor series Pure Power 10. So there is still a semimodular version with flat ribbon cable and a cheaper version with fixed cabling. Something has changed in terms of efficiency and noise.
Pure Power 11 receives 80 Plus Gold certification
be quiet! has already re-released the series at the beginning of 2017 and finally used DC-DC converters. This time they are of course also on board again. But there is also an improvement in efficiency. The models from 400 to 700 watts now have 80 Plus Gold certification. Only the smallest 300 and 350 watt models come without this. Further optimizations are planned for the coil whining. New and optimized components are said to have significantly reduced the annoying, high-pitched tones even in cross-load situations. In addition, there is of course a very quiet be quiet! fan, which is also trimmed for very quiet operation.
It is pleasing that be quiet! has also not changed the prices upwards. The cheapest 300 Watt model is available from 47.90 Euro MSRP, the most expensive model with a modular cable set costs 104.90 Euro. The retail price is already well below the RRP, which is why the power supplies are a real budget tip. be quiet! also gives a five-year guarantee. The power supplies are already listed at some dealers.